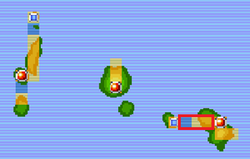 Located in the Sevii Islands archipelago, Bond Bridge is a long path that connects to Three Island, Berry Forest and a specially custom area, Distant Isles.
This route can be classified into 3 different sections: A sandy beach area at the left side of the map, a bridge on water in the middle, and a small hill at the right side of the map. Following the sandy path into the trees at the western end will lead players into Berry Forest. In the middle section, fishing and surfing are allowed in the water, and the bridge that heads north bring players to the Distant Isles. Some grass patches are found on the hill, allowing players to train or catch some Pokémon.
Wild Pokémon
Wild Pokémon of Level 20 - 30 are encountered here:
Average Experience and EV yield
Note: This section assumes only common and uncommon Pokémon are fainted and that no blessings are active.
Grass
Average Experience
Normal Member
Gold Member
| EV | Normal Member | Gold Member |
| --- | --- | --- |
| HP | | |
| Attack | | |
| Defense | | |
| Special Attack | | |
| Special Defense | | |
| Speed | | |
Fishing
Average Experience
Normal Member
Gold Member
| EV | Normal Member | Gold Member |
| --- | --- | --- |
| HP | 0 | 0 |
| Attack | 0.12 | 0.18 |
| Defense | 0 | 0 |
| Special Attack | 0 | 0 |
| Special Defense | 0 | 0 |
| Speed | 0.88 | 0.82 |
Surfing
Average Experience
Normal Member
Gold Member
| EV | Normal Member | Gold Member |
| --- | --- | --- |
| HP | 0 | 0 |
| Attack | 0 | 0 |
| Defense | 0 | 0 |
| Special Attack | 0 | 0 |
| Special Defense | 1 | 1 |
| Speed | 0 | 0 |