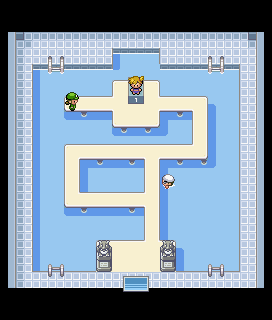 Located in Cerulean City of the Kanto region, Cerulean Gym is home to the gym leader Misty who uses Water-type Pokémon. It is the second gym that a player will challenge.
Defeating Misty will award players with the Cascade Badge. It will allow players to talk in chat and progress to Route 5 as the police officer has moved away from the door in one of the houses. Obtaining this badge will also let the players have the privilege of using the HM Cut outside battle to clear small trees blocking some paths.
Pokémon Trainers
Swimmer Luis (72 hours cooldown before battling again)
Picnicker Diana (72 hours cooldown before battling again)
Gym Leader Misty (30 minutes cooldown before battling again)
Note: Gym Leader cannot be re-battled again once they are defeated.
Ad blocker interference detected!
Wikia is a free-to-use site that makes money from advertising. We have a modified experience for viewers using ad blockers

Wikia is not accessible if you've made further modifications. Remove the custom ad blocker rule(s) and the page will load as expected.