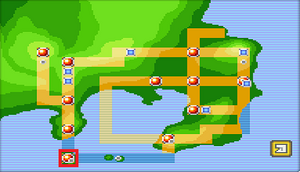 Situado entre uma Rota 20 e Route 21 de Kanto, ou acesso a uma Ilha de Cinabolha definitivamente requerido HM Surf. Os jogadores podem escolher uma jornada mais fácil, surfando da Cidade Pallet, ou uma rota longa da Cidade Fuchsia, onde Seafoam Island deve ser percorrida para alcançar a Ilha Cinnabar nesta ilha espalna cubone
Despite being a small island, it still contains 2 main places of interest, including the Pokémon Mansion and the Pokémon Lab. The Pokémon Lab is useful in reviving fossils while the Pokémon Mansion is an area where players must visit to unlock the Cinnabar Gym.
Cinaboque q te da masterballs
Sland também abriga o Cinnabar Gym, que se especializou em Pokémon Fire-type. Pode ser um sexta ou a sétima academia que um jogador e desafiar. Blaine é o líder e emblema do vulcão pode ser obtido quando ele é derrotado. Além disso, os jogadores têm o privilégio de visitar como Ilhas Sevií conversando com Bill, que apareceu ao lado da entrada da academia .
Buildings
| Item | Price |
| --- | --- |
| Poké Ball | $100 |
| Great Ball | $400 |
| Ultra Ball | $1,000 |
| Super Potion | $500 |
| Hyper Potion | $1,250 |
| Revive | $1,000 |
| Escape Rope | $500 |
| Repel | $300 |
| Max Repel | $600 |
Other areas accessible via transport
Wild Pokémon
Wild Pokémon of Level 5 - 10 are encountered here:
Average Experience and EV yield
Note: This section assumes only common and uncommon Pokémon are fainted and that no blessings are active.
Fishing
Average Experience
Normal Member
Gold Member
94.17
142.5
| EV | Normal Member | Gold Member |
| --- | --- | --- |
| HP | 0 | 0 |
| Attack | 0.12 | 0.18 |
| Defense | 0 | 0 |
| Special Attack | 0 | 0 |
| Special Defense | 0 | 0 |
| Speed | 0.88 | 0.82 |
Surfing
Average Experience
Normal Member
Gold Member
104.8
157.5
| EV | Normal Member | Gold Member |
| --- | --- | --- |
| HP | 0 | 0 |
| Attack | 0 | 0 |
| Defense | 0 | 0 |
| Special Attack | 0 | 0 |
| Special Defense | 1 | 1 |
| Speed | 0 | 0 |