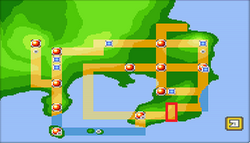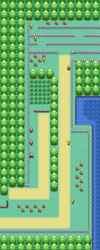 Lying in between Route 13 and Route 15 of Kanto, the northern part of Route 14 is a continuation of the maze from Route 13. Two paths can be seen at the southern part which lead to the upper and lower segment of Route 15.
Wild Pokémon
Wild Pokémon of Level 13 - 18 are encountered here:
Average Experience and EV yield
Note: This section assumes only common and uncommon Pokémon are fainted and that no blessings are active.
Average Experience
Normal Member
Gold Member
199.8
302.6
| EV | Normal Member | Gold Member |
| --- | --- | --- |
| HP | 0 | 0 |
| Attack | 0.04 | 0.06 |
| Defense | 0 | 0 |
| Special Attack | 0.04 | 0.06 |
| Special Defense | 0 | 0 |
| Speed | 0.96 | 0.94 |
Pokémon Trainers
Bird Keeper Carter (72 hours cooldown before battling again)
Bird Keeper Mitch (72 hours cooldown before battling again)
Bird Keeper Marlon (72 hours cooldown before battling again)
Bird Keeper Beck (72 hours cooldown before battling again)
Bird Keeper Donald (72 hours cooldown before battling again)
Bird Keeper Benny (72 hours cooldown before battling again)
Biker Gerald (72 hours cooldown before battling again)
Biker Malik (72 hours cooldown before battling again)
Biker Isaac (72 hours cooldown before battling again)