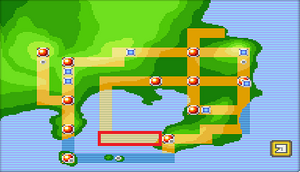 Sitting in between Route 17 and Fuchsia City of Kanto, Route 18 comprises of a path on water at the western end which requires a bike to pass through, and a grass patch near the eastern end. Players are capable of surfing and fishing in the western segment, whereas Pokémon trainers are only found at the grass patches.
Wild Pokémon
Wild Pokémon of Level 14 - 19 are encountered here:
Average Experience and EV yield
Note: This section assumes only common and uncommon Pokémon are fainted and that no blessings are active.
Grass
Average Experience
Normal Member
Gold Member
221.0
340.0
| EV | Normal Member | Gold Member |
| --- | --- | --- |
| HP | 0 | 0 |
| Attack | 0 | 0 |
| Defense | 0 | 0 |
| Special Attack | 0 | 0 |
| Special Defense | 0 | 0 |
| Speed | 1.12 | 1.18 |
Fishing
Average Experience
Normal Member
Gold Member
201.9
305.3
| EV | Normal Member | Gold Member |
| --- | --- | --- |
| HP | 0 | 0 |
| Attack | 0.12 | 0.18 |
| Defense | 0 | 0 |
| Special Attack | 0 | 0 |
| Special Defense | 0 | 0 |
| Speed | 0.88 | 0.82 |
Surfing
Average Experience
Normal Member
Gold Member
225.3
338.0
| EV | Normal Member | Gold Member |
| --- | --- | --- |
| HP | 0 | 0 |
| Attack | 0 | 0 |
| Defense | 0 | 0 |
| Special Attack | 0 | 0 |
| Special Defense | 1 | 1 |
| Speed | 0 | 0 |
Pokémon Trainers
Bird Keeper Jacob (72 hours cooldown before battling again)
Bird Keeper Wilton (72 hours cooldown before battling again)
Bird Keeper Ramiro (72 hours cooldown before battling again)