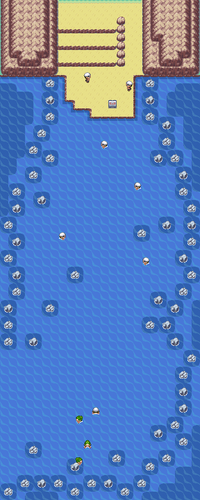 One of the few water routes in Kanto, Route 19 joins Fuchsia City to Route 20. HM Surf is required to fully access this route and many Water-type Pokémon will be encountered either from surfing or from Pokémon trainer battles.
Wild Pokémon
Wild Pokémon of Level 12 - 17 are encountered here:
Average Experience and EV yield
Note: This section assumes only common and uncommon Pokémon are fainted and that no blessings are active.
Fishing
Average Experience
Normal Member
Gold Member
178.1
269.2
| EV | Normal Member | Gold Member |
| --- | --- | --- |
| HP | 0 | 0 |
| Attack | 0.12 | 0.18 |
| Defense | 0 | 0 |
| Special Attack | 0 | 0 |
| Special Defense | 0 | 0 |
| Speed | 0.88 | 0.82 |
Surfing
Average Experience
Normal Member
Gold Member
198.5
298.0
| EV | Normal Member | Gold Member |
| --- | --- | --- |
| HP | 0 | 0 |
| Attack | 0 | 0 |
| Defense | 0 | 0 |
| Special Attack | 0 | 0 |
| Special Defense | 1 | 1 |
| Speed | 0 | 0 |
Pokémon Trainers
Swimmer Richard (72 hours cooldown before battling again)
Swimmer Reece (72 hours cooldown before battling again)
Swimmer Tony (72 hours cooldown before battling again)
Swimmer David (72 hours cooldown before battling again)
Swimmer Douglas (72 hours cooldown before battling again)
Swimmer Matthew (72 hours cooldown before battling again)
Swimmer Axle (72 hours cooldown before battling again)
Swimmer Anya (72 hours cooldown before battling again)
Swimmer Connie (72 hours cooldown before battling again)
Swimmer Alice (72 hours cooldown before battling again)