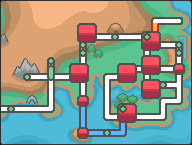 Route 24 is located in Kanto, connecting Cerulean City to Route 25.
Cerulean Cave can be reached by surfing along this route. Besides, surfing from here also allows players to return back to Mt Moon.
Wild Pokémon
Wild Pokémon of Level 8 - 13 are encountered here:
Average Experience and EV yield
Note: This section assumes only common and uncommon Pokémon are fainted and that no blessings are active.
Grass
Average Experience
Normal Member
Gold Member
131.7
199.2
| EV | Normal Member | Gold Member |
| --- | --- | --- |
| HP | 0.29 | 0.27 |
| Attack | 0 | 0 |
| Defense | 0.24 | 0.36 |
| Special Attack | 0 | 0 |
| Special Defense | 0 | 0 |
| Speed | 0.59 | 0.55 |
Fishing
Average Experience
Normal Member
Gold Member
130.2
196.7
| EV | Normal Member | Gold Member |
| --- | --- | --- |
| HP | 0 | 0 |
| Attack | 0.12 | 0.18 |
| Defense | 0 | 0 |
| Special Attack | 0 | 0 |
| Special Defense | 0 | 0 |
| Speed | 0.88 | 0.82 |
Surfing
Average Experience
Normal Member
Gold Member
145
218
| EV | Normal Member | Gold Member |
| --- | --- | --- |
| HP | 0 | 0 |
| Attack | 0 | 0 |
| Defense | 0 | 0 |
| Special Attack | 0 | 0 |
| Special Defense | 1 | 1 |
| Speed | 0 | 0 |
Pokémon Trainers
Bug Catcher Cale (72 hours cooldown before battling again)
Lass Ali (72 hours cooldown before battling again)
Youngster Ralph (72 hours cooldown before battling again)
Lass Reli (72 hours cooldown before battling again)
Camper Ethan (72 hours cooldown before battling again)
Camper Shane (72 hours cooldown before battling again)