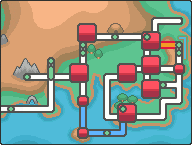 Route 9 is located in Kanto which links up Cerulean City to Route 10. The terraced terrain here consists of many ledges and there are quite a number of NPC Pokémon trainers standing in this route, waiting to be battled.
To access Route 9 from Cerulean City, HM Cut is necessary since a small tree is blocking the path at the start.
Wild Pokémon
Wild Pokémon of Level 10 - 15 are encountered here:
Average Experience and EV yield
Note: This section assumes only common and uncommon Pokémon are fainted and that no blessings are active.
Average Experience
Normal Member
Gold Member
160.9
242.2
| EV | Normal Member | Gold Member |
| --- | --- | --- |
| HP | 0 | 0 |
| Attack | 0.06 | 0.09 |
| Defense | 0.06 | 0.09 |
| Special Attack | 0 | 0 |
| Special Defense | 0 | 0 |
| Speed | 0.88 | 0.82 |
Pokémon Trainers
Picnicker Alicia (72 hours cooldown before battling again)
Hiker Jeremy (72 hours cooldown before battling again)
Camper Chris (72 hours cooldown before battling again)
Bug Catcher Brent (72 hours cooldown before battling again)
Bug Catcher Conner (72 hours cooldown before battling again)
Camper Drew (72 hours cooldown before battling again)
Hiker Alan (72 hours cooldown before battling again)
Hiker Brice (72 hours cooldown before battling again)
Picnicker Caitlin (72 hours cooldown before battling again)