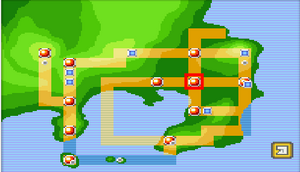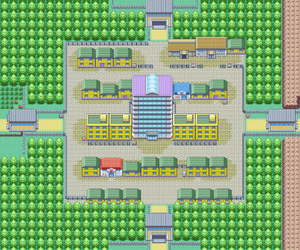 Sitting in the junction of 4 routes in Kanto, Saffron City is a huge city connected to Route 5, Route 6, Route 7 and Route 8. The headquarter of the famous manufacturing company, Silph Co, stands in the middle of this city but it is taken over by Team Rocket.
When players first arrived here, Rocket Grunts can be seen blocking all the entrance of major buildings like the Saffron Gym, Silph Co etc. When the Poké Flute is obtained from Lavender Tower, the Rocket Grunt standing in front of Silph Co will move aside, allowing players to enter this building. To remove all the Rocket Grunts in the city, Giovanni has to be defeated in Silph Co.
Saffron Gym is also located here, where Psychic-type Pokémon are mainly used. The gym leader, Sabrina will award the Marsh Badge to players who have emerged victorious.
Buildings
| Item | Price |
| --- | --- |
| Poke Ball | $100 |
| Great Ball | $400 |
| Hyper Potion | $1,250 |
| Revive | $1,000 |
| Escape Rope | $500 |
| Repel | $300 |
| Max Repel | $600 |
Ad blocker interference detected!
Wikia is a free-to-use site that makes money from advertising. We have a modified experience for viewers using ad blockers

Wikia is not accessible if you've made further modifications. Remove the custom ad blocker rule(s) and the page will load as expected.