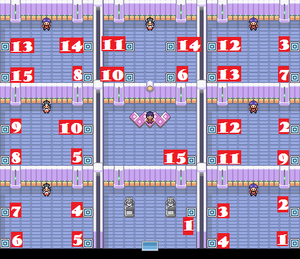 Situated in Saffron City of Kanto, the Saffron Gym houses Pokémon trainers who mainly uses Psychic-type Pokémon, with Sabrina as the gym leader. It can be the fifth, sixth or seventh gym that a player faced, depending on their choice.
Saffron Gym is initially blocked by a Rocket Grunt standing in front of the door. To access this gym, players will have to defeat Giovanni in Silph Co. It is a complicated maze comprising of 4 teleportation pads in every room except for 2 of them, which warp players to different locations in the gym once they stepped on it. To reach Sabrina, step on teleportation pad 1, 3, 13, then 15.
Players will obtain the Marsh Badge after winning Sabrina in the battle.
Pokémon Trainers
Note: Gym Leader cannot be re-battled again once they are defeated.