Basic Controls
Hotkeys
| | |
| --- | --- |
| Arrow keys / WASD | Move |
| Space bar | Interact with NPCs or objects, Cut small trees, Surf on water |
| Enter | Chat |
| M | Open / Close Map |
| P | Open / Close Pokédex |
| I | Open / Close Inventory |
| C | Open / Close Clan interface |
| B | Ride / Unride Bike (works only if you have one) |
| F | Start / Stop Fishing (need to be facing the water), the best rod will be chosen automatically |
| TAB | Automatically write into the chatbox in PM form, the name of the last person you send a PM (Private Message) to |
| ALT | Automatically write into the chatbox in PM form, the name of the last person who PM you |
Gameplay Tips
| | |
| --- | --- |
| To re-order your Pokémon | The list of Pokémon that are currently in you party is shown at the top of the screen. To re-order them, click and hold your chosen Pokémon's image icon, then drag it over to the position of the other Pokémon's image icon that you wanted to exchange with. |
| To find out the stats, moves and other info of a Pokémon in your party | Move your mouse over the name, HP bar or EXP bar of your chosen Pokémon, the box should be highlighted. Click on it and the Pokémon Summary will be shown |
| To re-order the moves of your Pokémon | Open Pokémon Summary and click on the 'Moves' tab. Each row will show the name of the move and number 1 to 4. To set a move as order 3, click on the number 3 and the list will rea |
| To give a hold item to a Pokémon | Open Pokémon Summary of the chosen Pokémon and Inventory, click and hold the item to be given and drag it to the small box underneath EXP bar in the Pokémon Summary |
| To move Pokémon between your party and Pokémon Storage | Go to a Pokécenter, press 'Spacebar' while facing the computer in the top right corner to open Pokémon Storage. To move from your party into storage, drag the Pokémon image icon at the top of the screen onto the storage screen. To move from storage to your party, make sure you have a free space in your party (Maximum 5 Pokémon in the current party list to perform a successful move), then drag the Pokémon image icon from the storage to anywhere outside of it |
| To access the Pokémon Summary of a Pokémon inside the Storage | Go to a Pokécenter, press 'Spacebar' while facing the computer in the top right corner to open Pokémon Storage. Double-click on a Pokémon image icon |
| To teach a HM or TM to a Pokémon in your party | Open Inventory and double-click on the HM or TM, then move your mouse over the name, HP bar or EXP bar of your chosen Pokémon, the box should be highlighted. Clicking on it will result in a moveset box popping up, asking which moves to forget (This will works only if the chosen Pokémon is able to learn the selected HM or TM). |
| To use a usable item (Potions, Revives etc.) on a Pokémon in your party | Open the Inventory and double-click on the item to be used. Mouse over the name, HP bar or EXP bar of your chosen Pokémon and the box should be highlighted, then click it. |
| To cut a small tree | One Pokémon in your party should have learn the HM Cut, press 'Spacebar' while facing the small tree to cut it |
| To surf in the water | One Pokémon in your party should have learn the HM Surf, press 'Spacebar' when facing the water to surf |
| To start fishing | With at least one fishing rod in the inventory, face the water and press 'F'. The best rod will be chosen automatically. Fishing will continue even after you have encountered a wild Pokémon, unless you move or press 'F' again. |
| How to use Global Marketplace | Go to a Pokémart and speak to the shopkeeper, then choose Global Marketplace to open the interface. To look for items or Pokémon, either click on the 'Auctions' or 'Buy' tab and type the name of the item you are looking for in the search bar. For Pokémon, you could add '-nature' at the end of a search to get results of Pokémon with that nature, ie: "haunter -sassy". You could also view the Pokémon Summary by double-clicking anywhere in the row. To sell items or Pokémon, simply use the 'Sell' tab and follow the instructions. |
Basic Commands
To perform the following commands, simply type it into the chatbox and press 'Enter'.
For those commands with (), simply remove those brackets and replace the needed content inside.
| | |
| --- | --- |
| /help | Show the list of commands available |
| /faq | Open the forum FAQ thread in a new tab |
| /pokemon | Show the list of Pokémon found and their rarities in your current area |
| @(username) (message) | Send a private message to the intended user |
| /trade (username) | Send a trade request to the intended user |
| /battle (username) | Send a battle request to the intended user |
| /setbattle (level) (username) | Send a battle request to the intended user, with the Pokémon level limited |
| /exp | The total amount of experience gained from your first day |
| /weeklyexp | The amount of experience gained in this week |
| /createchat (chat name) | Creating a new chat for group conversation |
| /chatinvite (username) | Inviting the intended user to join the chat you have created |
| /chatmembers | A list of members currently in your chat |
| /leavechat | Leave the chat that you have joined which is not created by you |
| /disbandchat | Destroy the chat that you have created earlier |
| /pp | The amount of Philanthropist points you have |
| /altar | The current amount of money accumulated in Altar |
| /pvppoints | The total amount of PVP points you have |
| /weeklypvppoints | The amount of PVP points you have for the current week |
| /disableplayers | Hide all players on the map (To show players again, refresh the browser) |
| /time | Get the server time |
| /patchnotes | Open the forum patch notes thread in a new tab |
Introduction
After logging into your account and starting the game for the first time, you will be asked to customized your character, for example, male or female character, eye colour, hairstyle etc.
Once you have completed customizing your character, you will start your journey in Hero House of Pallet Town, which is located on the upper left corner of the map. Go downstairs and exit the house, then head for the biggest building, Oaks Lab, on the lower right corner.
Speak with Professor Oak by facing him, then press Spacebar and he will ask you to choose one Pokémon to start your journey with (You can speak with all other NPCs later on in the same way). 3 Poké Balls are available on the table to your right. Press Spacebar while facing a Poké Ball will show you the picture of the Pokémon that is in that Poké Ball. You can choose between three Pokémon, the Fire-type Charmander, the Water-type Squirtle or the Grass-type Bulbasaur. After choosing one, go out of Oaks Lab and head north to Route 1.
Bulbasaur
Charmander
Squirtle
Bulbasaur is a Grass/Poison-type Pokémon and is the least popular. It will evolve into Ivysaur at level 16, later on to Venusaur at level 32. Bulbasaur and its evolutions are balanced in offense as well as defense.

It learns some useful moves in its early stage, such as Leech Seed at level 7, Vine Whip at level 9 and Sleep Powder at level 13. For Ivysaur, Razor Leaf will be learnt at level 20 and the powerful Double-edge at level 31. Upon evolving into Venusaur, it will learn its best Special move, Petal Dance, at level 32, Synthesis at level 45 and its best Physical move, Petal Blizzard, at level 50.

Bulbasaur holds a type advantage against the first 3 gym leaders, Brock, Misty and Lt Surge, as well as the last, Giovanni. This makes it a very good choice for beginners or players who are not planning to use most of the Pokémon found earlier in Kanto. Being one of the best Pokémon of either of its types, it also has the added advantage of evolving at a lower level into its final stage than either of the other starters.




A Fire-type Pokémon, Charmander is the most popular starter. It evolves into Charmeleon at level 16, and into Charizard at level 36, gaining a secondary Flying-type. Charmander and its evolutions are offensive Pokémon, focusing on Speed, Special Attack and Attack.

Charmander learns Ember at level 7, and the very useful Dragon Rage at level 16. Charmeleon will instead learn Fire Fang at level 28 and Flame Burst at level 32. Upon evolving into Charizard, it will learn Wing Attack right away, followed by the best Special Fire-type move it will ever get, the Flamethrower at level 47. Charizard can also get the very useful Flare Blitz and Air Slash from the Move Relearner.

This Pokémon only holds a type advantage against Erika. Despite being at a disadvantage in the early game, the move Dragon Rage makes up for it, allowing it to progress with ease. Fire-type Pokémon are incredibly difficult to find, with almost all but Slugma being classified as Very Rare. Having Charmander as a starter will mean that players do not have to worry about where to find a Fire-type Pokémon.




The second most popular starter after Charmander, Squirtle is a Water-type Pokémon, evolving into Wartortle at level 16 and Blastoise at level 36. Squirtle and its evolutions are defensive Pokémon.

Useful moves such as Water Gun, Bubble and Bite can be learnt at level 7, 13 and 16 respectively. By evolving into Wartortle, it will learn Water Pulse at level 28, which should be replaced with HM03 - Surf as soon as you obtain it, and Aqua Tail at level 32. In its last evolution as Blastoise, Skull Bash will be learnt at level 39, as well as the powerful but inaccurate Hydro Pump at level 60. Blastoise can also learn Flash Cannon from the Move Relearner.

It holds a type advantage against Brock, Blaine and Giovanni, and the move Bite is very useful against Misty's Starmie. However, Kanto has plenty of good Water-type Pokémon, so it may be worth considering picking one of the other starters and catching many good alternatives later on in the game.
Route 1
There is nothing much of interest here except to level up and catch some new Pokémon for either filling up Pokédex or for adding it into your own party. This is the first map where you will encounter wild Pokémon randomly. As the battle scene comes up, you are given 4 choices: Fight, Items, Pokémon or Run. The Pokémon moves need to chosen after decided to fight. You could also choose to use some items like Potion and Poké Ball, or call out another Pokémon if the current Pokémon has a type disadvantageous to the opponent. Last but not least, you can choose to run away from battle but it may not succeed all the time. You can run from Wild Pokémon battle but not from a battle with Pokémon Trainer. To catch a Pokémon, simply lower its health as much as possible and use the item 'Poké Ball'. Status condition like Sleep, Paralysis on the opponent may further increase the chance of catching it.
Follow the path north and you will soon arrive in Viridian City. Follow the map shown here to make navigation easier.
Wild Pokémon of Level 2 - 3 are encountered here:
Pokémon
Type
Method
Rarity
Rate
Normal Member
Gold Member
Pidgey

Normal

Flying

Grass
Common
50%
50%
Rattata

Normal

Grass
Common
50%
50%
Pidgey
Rattata
Pidgey is a Normal/Flying-type Pokémon. It will evolve into Pidgeotto at level 18, and later on into Pidgeot at level 36. Its evolution line is balanced in offense and defense, with the evolution from Pidgeotto to Pidgeot having a huge surge in Speed.

Pidgey does not learn many good moves when leveling up, and you will be stuck with Tackle and Gust, which it learns at level 9, until you get HM02 - Fly right before you face the 4th gym leader.

It will only be useful against Erika, the fourth gym leader, so Pidgey is not recommended to keep in the party, especially since Spearow, which can be caught shortly after, is a much better alternative, learning better moves and evolving into its final stage at a lower level.




A Normal-type Pokémon, Rattata will evolve into Raticate at level 20, with both being frail and offensive Pokémon that focus on Speed and Attack stats.

Unlike Pidgey, Rattata actually learns some very good moves at an early stage: Bite at level 10, Hyper Fang at level 16 and Sucker Punch at level 19. Raticate will then learn the better version of Bite, Crunch at level 24. It can also learn the very powerful Swords Dance from the Move Relearner.

Hence, Rattata is very good Pokémon to have in your party in the early stage of the game, where its Dark-type moves can be very useful against Misty's Starmie, Erika's Exeggutor and Sabrina.

It is advised to evolve Rattata only at level 22 as it learns Crunch and Assurance at level 22 and 25 respectively, whereas Raticate need to take two more extra levels for Crunch and four more for Assurance. It is not a very big deal, but you can decide for yourself whether you would like better stats after evolution or better moves at a lower level.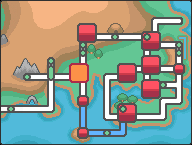 If your Pokémon happens to be in low HP or have fainted from the wild Pokémon battles back in Route 1, head over to the Pokécenter, which is characterized by the red roof building. Your Pokémon will be healed by walking into the building. You can also accessed the Pokémon Storage in here by clicking Spacebar while facing the computer in the upper right corner.
There is a Pokémart and you could buy some Potions or Poké Balls. You can also accessed the Global Marketplace from here, where you can look for items and Pokémon on sales by other players.
| Item | Price |
| --- | --- |
| Poke Ball | $100 |
| Potion | $100 |
A gym exists in this city, but it is locked at the moment so you will not be able to challenge it yet. Going west will take you to Route 22, where new Pokémon species are found, while going north will take you to Route 2.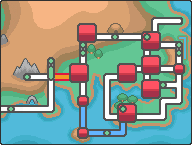 The only thing you can do on this route for the moment is to level up your party Pokémon or catch some other new species. Once you are done, go back to Viridian City and head north to Route 2.
Spearow
Mankey
Spearow is a Normal/Flying-type Pokémon and evolves into Fearow at level 20. Its evolution line are frail, offensive Pokémon, focusing on Speed and Attack.

Spearow learns a couple of good moves at an early stage, like the Flying-type Peck right off the bat and Aerial Ace at level 17, which will deal a nice amount of damage until you get your hands on HM02 - Fly. Fearow, it will learn the Dark-type Assurance at level 35, and one of the best Flying-type moves, Drill Peck, at level 47. It can also learn Drill Run at the Move Relearner.

Although better than Pidgey, Spearow is still far from the ideal Pokémon, having an advantage only against the fourth gym. However, the fact that it can be found easily, evolves early, and has some really nice moves can be enough to earn a spot in your team.

Evolving into Primeape at level 28, Mankey is a Fighting-type offensive Pokémon that focus on Attack and Speed.

It already knows Low Kick when you have caught it, which is a very good move to take down heavy foes, like Brock's Onix. A nice alternative for hitting lighter foes, Karate Chop, will be learn at level 13. For a better and valuable coverage against Ghost and Psychic-type, Assurance is learnt at level 25. At level 41, Primeape will learn the inaccurate yet powerful Cross Chop. The move with high attack power, Close Combat is learnt at level 59.

It has an advantage against Brock, Lt Surge's Magnemite and Magneton and Giovanni's Kangaskhan, Onix, Rhyhorn and Rhydon. However, being the first rare Pokémon that you have come across, with an encounter rate of only 0.68%, it is your decision whether to catch one or not.
This route is divided into 2 sections: the East and West Segment. You will not be able to access the Eastern Segment as there are small trees blocking the path, which requires the HM Cut to remove them.
Keep on going north and into the building, being the entrance gate to Viridian Forest.
Caterpie
Weedle
Caterpie is a Bug-type Pokémon, evolving into Metapod at level 7, and into Butterfree at level 10, gaining a secondary Flying-type. Caterpie is balanced in both offense and defense, Metapod is defensive while Butterfree is an offensive Pokémon, focusing on Special Attack stat.

Being very weak at the beginning, it only knows the move Tackle. However, upon evolving into Butterfree, a very useful move Confusion will be learnt, followed by Sleep Powder at level 12 which have a 97.5% chance of putting target to sleep if Butterfree has the ability Compound Eyes. A variety of different types moves like Gust, Psybeam and Silver Wind will also be learnt at level 16, 24 and 28 respectively. At level 42, it will learn its strongest move, Bug Buzz and at level 46, the extremely useful Quiver Dance.

Butterfree has a type advantage against Erika and Sabrina. It also does not have any trouble dealing with Koga due to the Psychic-type moves. Although Caterpie and Metapod may be difficult in leveling, Butterfree is definitely worth the trouble with good moveset and sufficient stats to back up the utility of nearly 100% accurate Sleep Powder.




A Bug/Poison-type through its evolution line, Weedle evolves into Kakuna at level 7 and Beedrill at level 10. Similarly to Caterpie evolution line, Weedle is balanced in offense and defense, Kakuna in defense while Beedrill in offense, focusing on Attack stat.

Starting off with the weak Poison Sting as the only move, evolving to Beedrill will add Fury Attack to its moveset. Besides, Twineedle, Agility, Assurance will be learnt at level 16, 31 and 34 respectively. To get coverage against Ghost-type, Pursuit is learnt at level 19 while its strongest Bug-type move, Pin Missile at level 28. Poison Jab is its strongest Poison-type move and it is obtained at level 37. At level 40 and 45, the rather useful move Endeavor and the situational Fell Stinger can be learnt respectively.

Having a type advantage over Erika and Sabrina, its Twineedle can also do huge damage to Misty's Starmie. However, Beedrill lacks the utility that Butterfree has and unfortunately, it also does not make up for it with raw power.
Viridian Forest
A small labyrinth with more varieties of Pokémon here! Be sure to have a couple of potions in your bag if your Pokémon are low leveled, but all in all, this is not a very difficult path. Also stock up on several Poké Balls in case you encounter some rare Pokémon like Pichu and Scyther.
This will be the first map where you encounter Pokémon Trainers randomly scattered around. If you walk directly or even a few steps in front of them (where they are able to see you), they will automatically walk up to you and challenge you to a battle! Do note that the option Run will be grayed out, hence you cannot run away from Trainers' battles. To avoid these battles, either walk behind the trainers or as far as possible away from their sights.
A small path to the left leads to Deep Viridian Forest, where rarer and unique Pokémon reside in there. We shall skip that area for now as the HM Cut and Surf are needed to fully explore the area. Instead, head to the building located at the upper left corner in order to leave this forest, and you will be brought to the Northern Segment of Route 2. Continue north and you will reach Pewter City.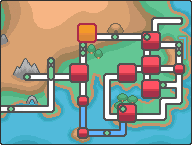 A small city, the only attraction here is the Pewter Gym. There is a path at the east that leads to Route 3, being inaccessible until the gym leader Brock is defeated. As a clue, a kid standing near the Route 3 entrance will let you know that Brock is looking for challenger. Before heading to the gym, check out the Pokémart and perhaps stock up on Potions or Poké Ball. Escape Rope may be useful later on when going into Mt Moon, as it teleport you back to the cave entrance.
| Item | Price |
| --- | --- |
| Poke Ball | $100 |
| Potion | $100 |
| Escape Rope | $500 |
| Repel | $300 |
Being the first gym that you challenge, Pewter Gym specializes in Rock-type Pokémon. For players who have chosen Bulbasaur or Squirtle as your starter Pokémon, this gym will be easy as a breeze due to the type advantage they have on Brock's Pokémon. For those with Charmander, it is better to have some back-up Pokémon in your party. A Mankey from Route 22 or a Butterfree by evolving Caterpie from Viridian Forest will do great in this gym, since Rock-type is weak to Fighting-type moves, while Butterfree's Confusion will deal huge damage to Brock's Pokémon due to their low Special Defense. Avoid bring Flying or Electric Pokémon. Normal-type moves should be avoided as well, as they only deal half the damage to Rock-type Pokémon.
The Boulder Badge will be awarded to you upon Brock's defeat and it is recorded in your trainer card (To open, look at the bottom left corner and click on the button with a white card on it). When you are done, i.e. healing at Pokécenter, buying items from Pokémart, move on to Route 3 by going east.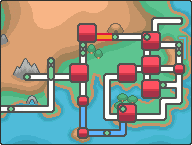 You will be facing a number of Pokémon Trainers on this route so either bring enough Potions or go back to the Pokécenter to heal your Pokémon.
Go all the way to the end of the path, then head north to the Western segment of Route 4.
There is a Pokécenter located near the Mt Moon entrance, which is useful after a long chain of battle back in Route 3. While in Mt Moon, you can also return here to heal your Pokémon if they happen to be in low health. When you are ready, enter Mt Moon.
Mt Moon is packed with Pokémon Trainers who are waiting for challenges. The Pokémon residing in here are a unique group which can normally be found only in caves but nowhere else.
For players who would like to exit this cave quickly in order to reach Cerulean City as fast as possible, go directly down Stair 5 and the rest of the path is pretty straightforward. For others who would like to earn some extra money and experience, visit Stair 1 and Stair 3, each leading you to a Rocket Grunt at the end of the path.
Mt Moon Main
It may be worth catching a Geodude here as it will be helpful against the third gym that focus on Electric-type. Besides being immune to Electric-type attacks, Normal-attacks will only do half of the damage due to it being a Rock-type Pokémon. Although slow, its defense can withstand most of the physical attacks.
Being a Poison and Flying-type, Zubat is an advantage against the Grass-type Celadon Gym later on. Upon evolution, not many Pokémon are match-able to Crobat's speed. It can earn a place in your party if you like a Pokémon that mostly strike first in battle..
Mt Moon E1-E4
Mt Moon E1-E4 comprises of very short route that acts as a connecting path between Mt Moon Main and Mt Moon Main 2. No Pokémon trainers are found here, while the only wild Pokémon in here is Paras.
A Paras may be of some help in your upcoming Cerulean Gym battle against Misty's powerful Starmie. Its Bug-type attack will apply double power when dealing with the Psychic-type Starmie. Although found earlier in Mt Moon Main, it is more common here.
Wild Pokémon of Level 4 - 9 are encountered here:
Pokémon
Type
Method
Rarity
Rate
Normal Member
Gold Member
Paras

Bug

Grass

Walking
Common
100%
100%
Mt Moon Main 2
The Pokémon found are similar to Mt Moon Main, with Rocket Grunt being the main Pokémon Trainers.
With multiple ledges in this route, do note that this is one way route. Hence, you will not be able to return back to Mt Moon or other earlier locations for the time being after jumping off the ledges at the eastern end. Make sure you have catch all your wanted Pokémon before leaving this area. Continue to move eastward and you will reach Cerulean City.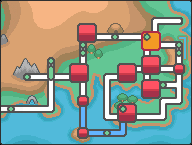 A city almost similar to Pewter City, it houses the second gym for you to challenge. Besides the basic buildings like Pokécenter and Pokémart, there is a Bike Shop which sells a bike for $250,000. You will not be able to afford it currently, so come back again later when you have collected enough from more battles.
| Item | Price |
| --- | --- |
| Poke Ball | $100 |
| Potion | $100 |
| Super Potion | $500 |
| Escape Rope | $500 |
| Repel | $300 |
When you first reach this city, you may notice a police officer standing in front of a house, blocking the entrance. This house is your access to other new routes. To move the police officer away, you will have to defeat Misty in Cerulean Gym. Head to the gym when you are ready, if not, you can continue your training back in Route 4, or even in Route 24 located north from here.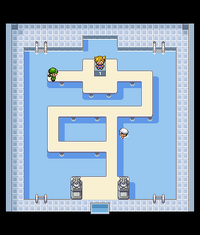 A straightforward path leads you to the gym leader, Misty. However, you will be stopped by 2 Pokémon Trainers on your way to her. This gym focus on Water-type Pokemon, so avoid bringing Rock, Ground or Fire-type Pokémon. Only Electric or Grass-type moves will deal double damage, in addition, Ghost, Dark and Bug-type as well to Misty's Starmie.
Trainers who have chosen Charmander as their starter may have a difficult time here, therefore it may be wise to have a few other Pokémon with you. You may have to find an Oddish or Bellsprout in Route 24 to help you, both having Grass-type moves. However, be careful when dealing with Misty's Psyduck as its Confusion may deal huge damage to these 2 Poison-type Pokémon. For Bulbasaur, the same tips similar to Oddish and Bellsprout applies. Squirtle is neither weak or strong against Water-type, hence catching some Grass-type Pokémon will help to speed up your battle.
Misty's Starmie is a challenge not only due to its high speed and special attack, but its move Recover can restore half of its HP as well. Knowing the powerful Hydro Pump, it can often strike first and 1-hit KO weak Pokémon if Hydro Pump does not missed. Grass-type Pokémon like Paras, Oddish or Bellsprout will be able to deal with Starmie. Rattata's Bite can also inflict serious damage as well.
Upon Misty's defeat, you will get the Cascade Badge, which allows access to the house with a police officer standing in front. Another new badge to your collection! After healing at Pokécenter, go north of Cerulean City to Route 24.
Route 24 has a bridge where you will see six Pokémon Trainers here consecutively. If there is any need to, you could return to Cerulean City Pokécenter to heal your Pokémon.
Abra can be found here and its evolution, Kadabra and Alakazam can be a powerful Psychic-type Pokémon to add into your party due to its high speed and special attack. However, it is very rarely encountered and you will also need a leading Pokémon with the move Mean Look to prevent it from teleporting away during battle.
After all battles, go east to Route 25 where more Trainer battles await.
Route 25 leads to a dead-end where Bill's House is there. Many Pokémon trainers are standing on this route waiting to be battled. The Pokémon found here is actually the same as those on Route 24. Head to Bill's House and speak with Bill inside. He will give you the S.S Anne Ticket where you can obtain the HM Cut.
After that, go all the way back to Cerulean City and enter the house where the Police Officer is blocking earlier on. Step through the hole in the wall and go all the way South to the path leading to Route 5. Do not jump off the ledge next to Cerulean Gym, if not you will end up again in Cerulean City.
A very short path with nothing interesting here, the gate to Saffron City is blocked by guards at the moment. Hence, you will have to enter the small building located at the bottom right corner. It is an entrance for the Underground Path that goes directly to Route 6.
Another short route that leads to Vermillion City, Route 6 has the same type of wild Pokémon found in the grass as Route 5. Few trainers can be seen here. Go all the way south and you will reach the next city, Vermillion City, where it contains many places of interest.
A major sea port city, Vermillion City will be a connecting point to other regions as it offers ferry service here. You will be able to travel by ship once you earn certain badges. We will skip the Vermillion Gym for now, as we are not able to remove the small tree on the path that leads to the gym.
Reaching this city means you will be able to start fishing! Simply step into the Fishermans House situated to the left of Pokécenter. Speak with the Fisherman and he will offer the Old Rod for $5,000. Although it is the worst rod, you have no choice but to buy it in order to increase your fishing level. Once you have reach Level 5, you could use the Good Rod which offers a slightly shorter time in encountering Pokémon. To fish, press F while facing the water. Fishing will continue even after you finish a battle with the wild Pokémon encountered. To stop fishing, press F again or move from your position. To check fishing level, open your trainer card and select 'trainer levels' at the bottom right corner.
You can donate to the Altar here for Philanthropist Points which can be exchange for items. PVP Center and Clan War Center are also located here, allowing you to take part in tournaments or clan wars that take place in certain days of the week. There is a Scientist here as well, standing in front of Pokécenter and helping you in the creation of a custom map.
When you are done with the touring, head South all the way to the harbour and enter SS Anne.
| Item | Price |
| --- | --- |
| Poke Ball | $100 |
| Potion | $100 |
| Super Potion | $500 |
| Escape Rope | $500 |
| Repel | $300 |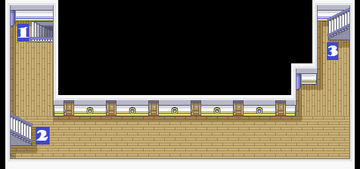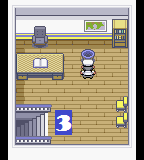 You will be in SS Anne F1 after entering. To get the HM Cut, go up Stair 1, followed by Stair 3, then speak to the Captain and he will give you the HM. Before leaving the ship, you could go up Stair 2 to battle two trainers for extra money and experience.
Leave the ship and teach the HM Cut to a Pokémon before setting off to Vermillion Gym. To teach the HM, the chosen Pokémon must be in your party, then open your inventory by pressing I, double-click on the HM and move your mouse to the box with your chosen Pokémon name, HP or Exp Bar at the top of the screen. The box should now be highlighted. Click on it and if the chosen Pokémon is able to learn the HM Cut, a moveset box will pop up, asking you which move should be forgotten. Not all Pokémon can learn the HM.
To cut small trees, face the tree and press Spacebar. Make sure the Pokémon with the HM Cut must be in your party for it to works.
Vermillion Gym is the third gym that you will be facing, specializing in Electric-type Pokémon. Avoid using Flying or Water-type as these will be taking tonnes of damage. Ground-type Pokémon are immune to any Electric-type moves, so if you already have a Sandshrew or Geodude, this gym will be an easy walk. However, be careful of using Geodude on Lt Surge's Magnemite and Magneton as their Steel-type moves will inflict huge damage on the Rock-type Geodude. If you did not caught any Ground-type Pokémon earlier, get a Diglett from Diglett's Cave not far away from here before coming back.
The Thunder Badge will be added to your trainer card after your victory against Lt Surge. Next, head to the eastern path from Vermillion City, which leads to Route 11.
Many Pokémon Trainers are residing on Route 11 and Diglett's Cave is located here as well. With your fishing rod, you should catch a Magikarp and evolve it to the powerful Gyarados. It will be able to help out in the Cinnabar Gym and Viridian Gym, as well as learn the HM Surf later on. The path on the East will bring you to Route 12, but a sleeping Snorlax is blocking the road making it inaccessible. Go into Diglett's Cave at the western end of this route when you have finished all Trainers battles here.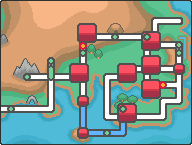 A very straightforward tunnel, follow the path all the way to the end and you will end up back in Route 2.
Wild Pokémon of Level 10 - 15 are encountered here:
Pokémon
Type
Method
Rarity
Rate
Normal Member
Gold Member
Diglett

Ground

Walking
Common
99.32%
98.98%
Dugtrio

Ground

Walking
Rare
0.68%
1.02%
Upon exiting Diglett's Cave, you will be at the eastern segment of the route. Go directly South and enter the building with a grey roof. Make sure you currently have caught at least 10 different species of Pokémon. To check if condition is met, press 'P' to open Pokédex and look under the heading 'Pokédex data' at the top left. It will show the number of Pokémon you have seen and caught.
Speak with Prof Oak's Aid and he will give you the HM Flash when you have met the above condition. Then return to Cerulean City and go to the eastern path to Route 9. There are 2 alternative ways to go back to Cerulean City: Either head to Pewter City and go through Mt Moon, or return to Diglett's Cave, pass through Vermillion City, and take the Underground Path.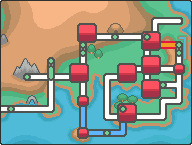 Route 9 is full of Pokémon Trainers. Battle your way through to the end of the path, where you will reach Route 10 next.
There is a Pokécenter here right next to the Rock Tunnel. Let one of your Pokémon learn the HM Flash before entering it.
The legendary bird, Zapdos can be found here. However, the Feather of Zapdos should be obtained first which can drop from any Pokémon in here or Power Plant when your Electric-type leading Pokémon is alive. Let your living leading Pokémon hold it and you will have a very small chance of encountering Zapdos. Come back again later if you intend to find this legendary bird because it will be at level 85.
Navigation here is rather easy, just follow the stairs at the end of each section and you will soon reach the exit. However, there are many Pokémon Trainers here and some of them cannot be avoided. Bring enough Potions and some Escape Ropes so that you can teleport to the tunnel entrance anytime in case your Pokémon HP are low. If one of your Pokémon in the party know the HM Flash, the tunnel would have light up automatically once you entered.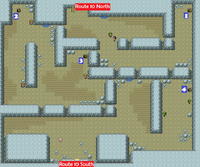 The Pokémon here are roughly the same as those in Mt Moon, where most of them are often found only in caves. If you have missed them back in Mt Moon, there is still a chance to catch them here.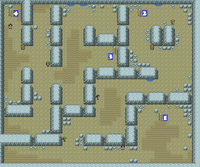 Same type of Pokémon as Rock Tunnel F1, with more trainers here waiting.
The exit of Rock Tunnel leads here, with a few more Pokémon Trainers to go before getting to the next Pokécenter!